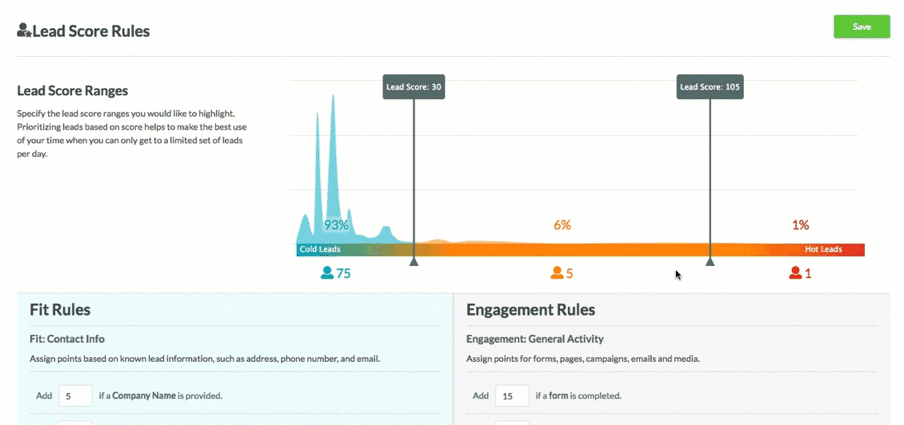 How to Scoring your Content on Marketing Automation
Did you know your lead generation ROI can be increased
by 77% by just using lead scoring?
It's true and backed by market researches. Using lead scoring enables you to spend your time efficiently on qualified leads and automating the whole process with dynamic outreach further increases the lead conversion rate.
​​
Here is a table of activities and scoring which you can utilize in order to help your marketing pushing more qualified leads in MQL or SQL to the Sales team to increase efficiency and conversion to revenue.
| | | |
| --- | --- | --- |
| Converted to Paying Clients | | |
| | | The Prospects have received a proposal or in the negotiations stage. |
| | | Schedule a demo meeting on Sales Director Calendar |
| | | Create a form or click on invitation through one of the Bot funnels. |
| | | Filled up any of the forms to download Whitepaper, or contact us or inquiry. |
| | | Has visited important pages on your website or landing pages. |
| | | Has clicked on a link through the email or has clicked on a specific PoT |
| | | Details such as Name, Email, Company name, Phone, etc |
How to add it to your SharpSpring account?
​
SharpSpring's lead scoring engine enables you to manage your leads by organizing and prioritizing them based on information, event, activity by the lead using custom lead scoring parameters. One important thing to note here is that every company has a different strategy and approach based on its audience, goals, and niche. To complement that, SharpSpring's lead scoring tool offers extensive personalization and configuration to utilize the interactions that are unique to your organization.
​
SharpSpring's lead scoring tool not only helps you segmenting and prioritizing your leads but also gives you the capability to accurately reflect the lead value with multi-attribution configurations such as activity period and decay timing.

Leads have different statuses which are as follows -
Open - New and unprocessed lead

Unqualified - Lead that does not meet any desired criteria to be a potential customer

Qualified - Lead that meets the desired criteria to be a potential customer

Contact - Not included in the sales process

Customer - Won opportunity

Opportunity - Lead associated with a new opportunity
How THE RiCH.agency Can Help You Implement SharpSpring?
As a SharpSpring Agency Partner, we know both how to implement SharpSpring for your company and create compelling inbound marketing content to engage your leads and convert them into paying customers and for every stage on their life cycle.
Even though you can purchase the SharpSpring ( Start as low as US $485/Month) as a SaaS model from us, you can think of us as your complete partner for both marketing your products and services and providing the technical knowledge to implement, manage, evaluate, and optimize your email marketing automation program and Inbound Marketing Machine as-a-whole.
SCHEDULE A STRATEGY MEETING - IT'S FREE
A Free Consulting Meeting with RiCH team to learn your needs and work with you to choose the services you need. 
A meeting can conduct at the office or Online (Webinar).